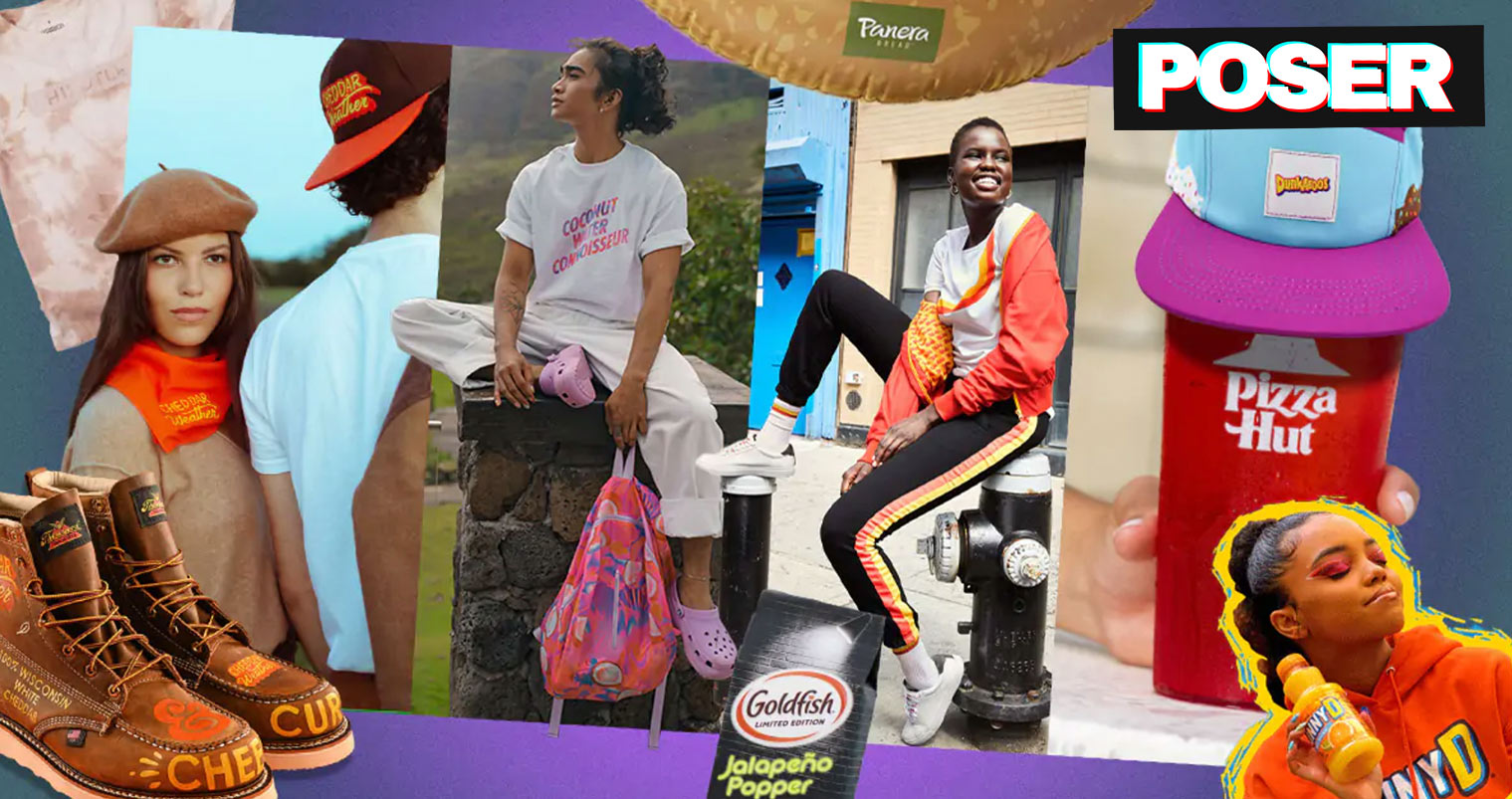 In a generation numb to traditional advertising, how can your brand earn a presence? -- Brand merchandise.
A meat sandwich-themed Hawaiian shirt - Arby's
A swimsuit with the word "Soup" printed on it - Panera Bread
Although there's nothing new about a brand making an article of clothing—the age of product unboxings on TikTok, specialty item sales on Shopify and hyped Supreme-style merch drops is unlike anything that's come before. And companies want in.
Marketing material
The first factor propelling the trend is perhaps the most obvious: It's an attempt to get shoppers to stop and look. More than just an additional source of revenue, these items can make people notice a particular brand when there's a near-limitless number of shows, websites and video games to get lost in.
Socks, fanny-packs - Cheez-It
Track suits - Oscar Meyer
"Attention is scarce," said Allison Finazzo, senior brand director of coconut water brand Vita Coco. "We have to constantly raise the bar and find more creative ways to connect with our consumers."
"For us, it's really all about marketing and generating excitement around our brand," said Liz Bazner, senior director of marketing at A&W Restaurants, which recently began selling products ranging from a $25 baseball shirt to a $715 pair of boots—all priced at cost.
A brand's clothing line can also help broadcast its values. Chipotle, for instance, has introduced new apparel dyed with a portion of the 300 million avocado pits its restaurants go through each year. Each one-of-a-kind piece from the collection requires five avocado pits to make, according to the company.
Tyler Benson, manager of external communications at Chipotle Mexican Grill, said because the space is more crowded than ever it's essential for the chain to "emphasize the purposeful mission of our apparel to differentiate ourselves from other brands."
Fostering Fan Clubs
The average consumer likely isn't interested in spending $20 on Pizza Hut's gold necklace featuring a slice-shaped pendant bejeweled with pepperoni, and that's OK.
"It's not going to be for everyone," said Victoria Anderson, vp of cultural strategy and communications at creative agency 160/90. Instead, Anderson advised, "brands have to find a way to focus on micro, niche communities and connect with smaller groups."
In other words, if a brand wants to generate genuine buzz in a creator economy, it must appeal to individuals who have more than a functional relationship with its goods or services.
"Even if this merch isn't flying off the shelf," Anderson explained, "it's still tapping into that need for fans to express their advocacy for something and feel like they're part of this loyal community."
Aligning with fashion and culture 
Much of this is silly, yet also serious. According to Anderson, the brand merchandise phenomenon is latching onto a "counter movement to what is traditionally seen as fashionable or beautiful." The consumers who buy into it are redefining what's cool to them. In a sense, Anderson added, these shoppers are striving to be "more real."
When asked to comment on Panera Bread's Swim Soup Collection, which includes a one piece sporting a broccoli-and-cheddar pattern and a pool float shaped like a bread bowl, Drayton Martin, Panera's vp of brand building, said the line provides people with an opportunity to be playful and witty.
"It's not trying to be high fashion," she said, "but it's definitely high expression."
---